River City Book One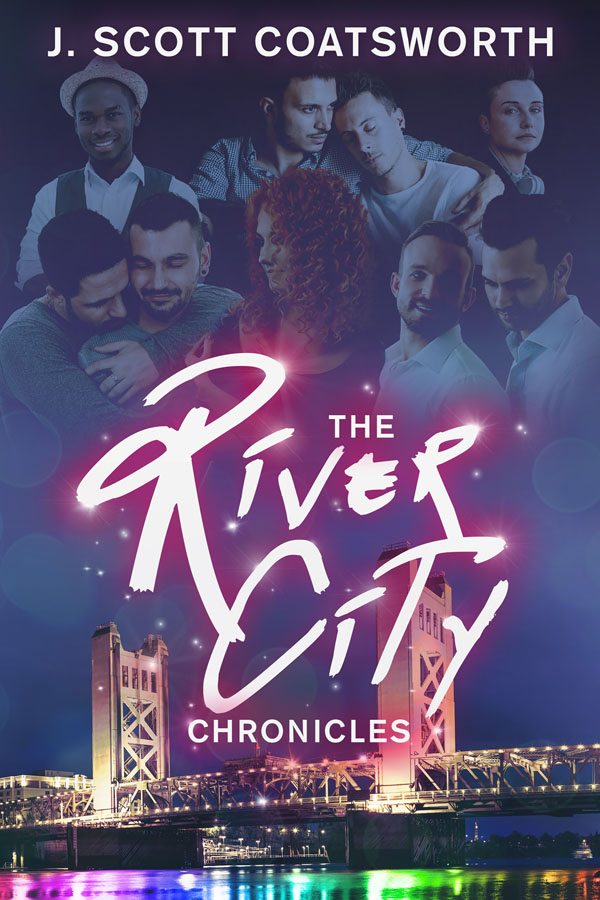 Part of the
River City
series:
The River City Chronicles
Editions:
Kindle

-

First

:

$ 5.99

ISBN:

978-1-7323075-1-3

Size:

9.00

x

6.00

in

Pages:

380
Paperback

-

First

:

$ 16.99

ISBN:

978-1-7323075-0-6

Pages:

380

A group of strangers meets at Ragazzi, an Italian restaurant, for a cooking lesson that will change them all. They quickly become intertwined in each other's lives, and a bit of magic touches each of them.
Meet Dave, the consultant who lost his partner; Matteo and Diego, the couple who run the restaurant; recently-widowed Carmelina; Marcos, a web designer getting too old for hook-ups; Ben, a trans author writing the Great American Novel; teenager Marissa, kicked out for being bi; and Sam and Brad, a May-September couple who would never have gotten together without a little magic of their own.
Everyone in the River City has a secret, and sooner or later secrets always come out.
Excerpt:
Matteo stared out the restaurant window into the darkness of Folsom Boulevard. It was getting dark earlier as summer edged into fall. Streetlights flickered on as cars drifted by, looking for parking or making the trip out of Midtown toward home.
The sign on the window read "Ragazzi" (the boys), lettered in a beautiful golden script just two months old. Investing in this little restaurant his uncle had left to them when he'd passed away had been their ticket out of Italy. But now with each passing day, as seats sat empty and tomatoes, pasta, and garlic went uneaten, the worry was gnawing ever deeper into Matteo's gut.
Behind him in the open, modernized kitchen, Diego was busy cooking— his mother's lasagne, some fresh fish from San Francisco, and some of the newer Italian dishes they'd brought with them from Bologna. The smells of boiling sauce and fresh-cooked pasta that emanated from the kitchen were entrancing.
READ MORE
They'd sent the rest of the staff —Max and Justin—home for the evening. The three customers who had shown up so far didn't justify the cost of keeping their waiter and busboy on hand.
Matteo stopped at the couple's table in front of the other window. "Buona sera," he said, smiling his brightest Italian smile.
"Hi," the man said, smiling back at him. He was a gentleman in about his mid-fifties, wearing a golf shirt and floppy hat. "Kinda quiet tonight, huh?"
"It always gets busier later," Matteo lied smoothly. "Pleasure to have you here. Can I get you anything else?"
"A little more wine, please?" the woman said, holding out her glass so the charm bracelet on her wrist jangled.
"Of course." He bowed and ducked into the kitchen. He gave Diego a quick peck on the cheek.
His husband and chef waved him off with a snort. "Più tardi. Sto preparando la cena."
"I can see that. Dinner for a hundred, is it? It's dead out there again tonight."
Diego shot him a dirty look.
Matteo retrieved the bottle of wine from the case and returned to fill up his guests' glasses. "What brings you in tonight?" Maybe they saw our ad.... "Just walking by and we were hungry. I miss the old place though....
What was it called, honey?"
Her husband scratched his chin. "Little Italy, I think?"
"That's it! It was the cutest place. Checkered tablecloths, those great Italian bottles with the melted wax... so Italian."
Matteo groaned inside. "So glad you came in" was all he said with another
smile.
COLLAPSE